Accommodation Information for Delegates from India
IMSc has negotiated a good deal with Ginger Hotel, which is within walking distance from the Institute; Delegates whose Institution or Project can support them are encouraged to book their accommodation by sending a mail to the hotel directly. (See below for further details)
Delegates for whom such a provision is not available may send a request to aqis13@imsc.res.in, but it should be understood that IMSc may be able to provide, owing to paucity, only shared accommodation.
---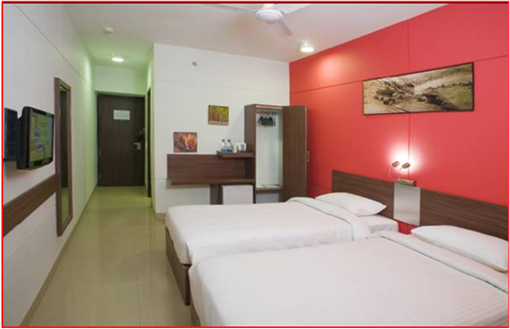 Ginger Hotels are the best budget hotels in the country providing modern amenities, quality service, value for money and convenience at affordable rates. Ginger Chennai is located on the Old Mahabalipuram Road (OMR) in the IITM Research Park, Chennai. It takes forty-five minutes (8-10 kms) by road from the airport and about an hour (13-15 kms) from the railway station to reach the hotel. Situated 1.4 km from IMSc, Ginger Hotel is within easy walking distance.
View Larger Map
Room Rates
(Inclusive of Taxes)
| | |
| --- | --- |
| Single | INR 2,600 |
| Double | INR 3,100 |
Rates include: Breakfast, Wi Fi
Check-in & check-out time is 12 noon.
Room amenities include: Electronic locks, LCD flat screen TV, Tea/Coffee maker and a self-controlled AC.
Also available: on-site cyber cafe, same day laundry facility, gym equipped with treadmill, exer-cycle and weights, car rental, secure parking and on-call doctor.
Phone: +91 44 6666 3333 ; Mobile: +91 92822 17989 Email: reservations.chennai-iitm@gingerhotels.com and marketing.chennai-iitm@gingerhotels.com Please include "Institute of Mathematical Science, Reference Code - 90420635" in the subject line of your email.