Navarathri Golu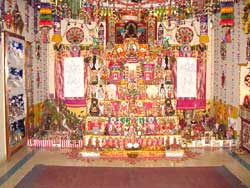 During this period, it is customary in many homes in Tamil Nadu to display a "Golu". This is an exhibition of various dolls in odd numbered tiers ("padis"). The golus vary in theme from house to house - from the elaborate, extravagant ones to the simple, traditional and artistic ones.
It is significant that the Navarathri Golu is set up with an odd number of steps (usually 7, 9, or 11), and the placement of different idols of Gods on them. It commences with the keeping of a "Kalasam" . Kalasam is a brass or silver pot filled with water and adorned with either a coconut or a pomegranate (it will remain fresh for the whole of nine days) amidst mango leaves. This Kalasam is kept in the first step.
Generally, when people come to a person's house to see the Golu, they are given prasad (the offering given to God that day), kumkum (red powder), and a small bag of gifts usually containing a mirror, a comb, a small box of kumkum, and fruits. These are only given to girls and married women. This is chiefly a woman's festival.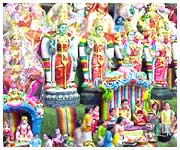 From the second day after the Mahalaya Amavasya, friends and relatives are invited to take a look at the Golu and receive the tamboolam.
In the evenings, a "kuthuvilakku" (small lamp) is lit, in the middle of a decorated "kolam"(Rangoli), before the golu and devotional hymns and slokas are chanted. After performing poojas, the food items that have been prepared, are offered to the Goddesses.
Golu is adorned with dolls - predominantly with that of the Gods and Goddesses depicting mythology. Common ones being Dasavatharam, Ramar Pattabhishekam, Meenaakshi Thirukalyanam, Murugan and Valli, Krishna in Aayarpaadi etc., It is a traditional practice to have the wooden dolls (Marapaachi - a pair of a boy and girl) as these dolls indicate fertility
Golu does not mean that the dolls are kept only on the steps. Innovation plays a vital role. Creativity and divinity combine to form a veritable presentation. Themes such as marriage, school are adopted. Every night 'arthi' is taken for the dolls.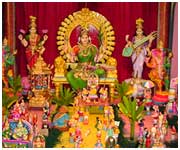 On the 9th day (Saraswathi Pooja), special poojas are offered to Goddess Saraswathi - the divine source of wisdom and enlightenment. Books and musical instruments are placed in the pooja (you may want to place your software CDs too !) and worshipped as a source of knowledge. Also tools are placed in the pooja - as part of "Ayudha Pooja". Even vehicles are washed and decorated, and poojas are performed for them.
The 10th day - "Vijayadasami" - is the most auspicious day of all. It was the day on which evil was finally destroyed by good. It marks a new and prosperous beginning. New ventures started on this day are believed to flourish and bring prosperity. Kids start tutoring on this day - to have a head start in their education.
In the evening of Vijayadasami, any one doll from the doll exhibition is symbolically put to sleep and the Kalasam is moved a bit towards North. - to mark the end of that year's Navarathri - Golu. Prayers are offered to thank God for the successful completion of that year's Golu and with a hope of a successful one the next year ! Then the golu is dismantled and packed up for the next year!